Not all ads on your Android device are annoying. Sometimes you might actually find an ad or two interesting. However, some apps and websites can be overwhelming with ads. In such cases, it's a good idea to install an ad blocker on your Android to enjoy content that truly interests you. Here's a list of some effective ad blockers for Android devices that don't require rooting.
AdGuard

Price: Free / starts at $2.49
AdGuard is a top-notch ad-blocker, but it's no longer available on the Play Store because it's exceptionally good at blocking ads across your phone. Google doesn't favor ad-blocking apps, so it often removes them from the Play Store.

You can find a limited version of AdGuard on the Play Store, which only blocks ads in Yandex and Samsung Internet. For the superior version, you'll need to download it from the AdGuard website in APK format (check our guide for APK installation). Once installed, you can block ads on various apps and browsers and set up filters for full control over ad blocking. AdGuard is also effective at blocking ads on YouTube, but you'll need to use the embedded AdGuard Player for that.
There's a paid version with extra features like privacy options, custom filters, ad blocking for specific apps, and the ability to create scripts for advanced functionality.
Adblock Browser



Price: Free

Adblock Browser is a well-known ad-blocking app for Android that's still available on the Play Store. It's essentially a mobile browser with robust ad-blocking capabilities. If you prefer to stick with your favorite browser, this might not be the right choice, but it's a great option if you want a seamless ad-free browsing experience.
Once you've installed this app on your mobile device, you can surf the web as you normally would, while AdBlocker Plus works diligently to eliminate ads from your view. The app allows you to apply filters and even supports non-intrusive advertising. This means you can choose to support content creators who provide their content for free while still enjoying an ad-free experience.
If you want to check out specific statistics for the web page you're currently on, simply tap the ABP icon located in the upper-right corner of the AdBlocker Plus browser. You can also easily pause the ad blocker for a specific page from the same menu. Apart from its ad-blocking capabilities, AdBlocker Plus closely resembles Chrome, making it a comfortable choice for fans of Google's mobile browser. Another excellent ad-free browser app to consider is Ghostery.
Tip: Discover how to disable automatic web page refreshing in your browser for a smoother browsing experience.
Blokada 6
Price: Free
Blokada is a free ad-blocker that comes with a visually appealing user interface. What sets it apart is that it's open source, meaning everything is transparent, and its source code is readily available for anyone to improve. The latest version, Blokada 6, offers VPN functionality, cloud-based ad blocking, and has no bandwidth limitations, but it's a paid option and can be downloaded from the Play Store.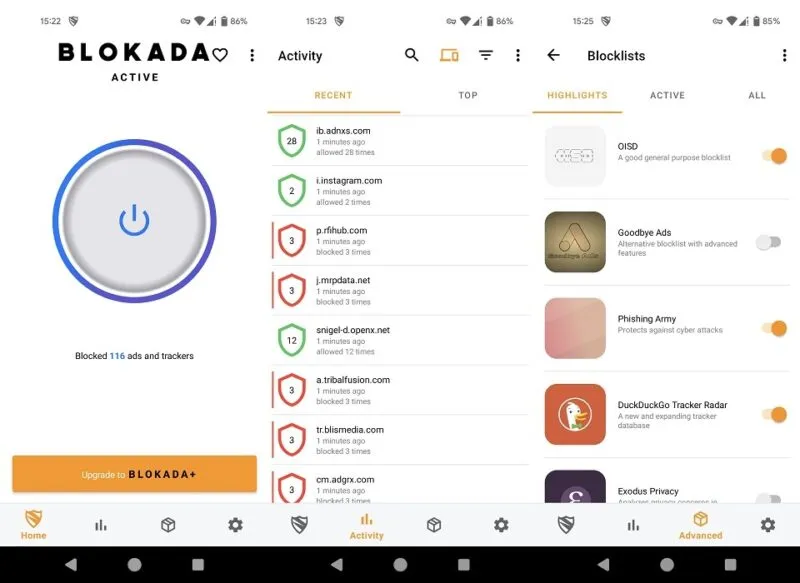 However, we're focusing on the free version, Blokada 5, which you can get as an APK from the official website. Once you've installed the app, it will request permission to set up a VPN connection for monitoring network traffic before granting you access to its ad-blocking features.
After it's been active for a while, Blokada will neatly display a list of all the ads and trackers it successfully blocked. Moreover, users have the option to enable multiple blocklists in addition to the default ones. For example, the "Phishing Army" blocklist helps protect against cyber attacks.
AdLock
Price: Free
AdLock is another valuable app designed to block ads and prevent unwanted content from cluttering your Android device. Because Google discourages ad-blocking, you'll find this app in APK form, which you can safely download from the official website.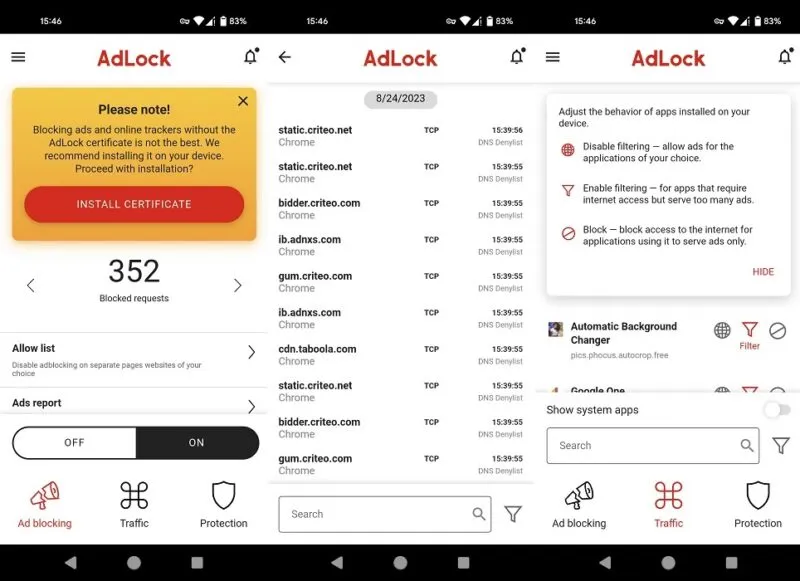 The app boasts a simple and user-friendly interface that makes it easy to control ad-blocking for both apps and websites. Once it's up and running, you can conveniently review detailed statistics about the blocked ads, giving you insights into its effectiveness.
AdLock also allows you to assign special settings to specific apps, such as disabling filtering or blocking their access to the internet, using them solely for displaying ads. Additionally, AdLock offers safe browsing features to shield you from phishing attempts, scammers, and malicious attacks, and it includes anti-tracking capabilities.
DN66
Price: Free
DN66 operates in a manner similar to Blokada by establishing a VPN connection to monitor network traffic. To fully unlock the app's ad-blocking potential, you'll need to activate "AdAway host files" within the "Hosts" tab.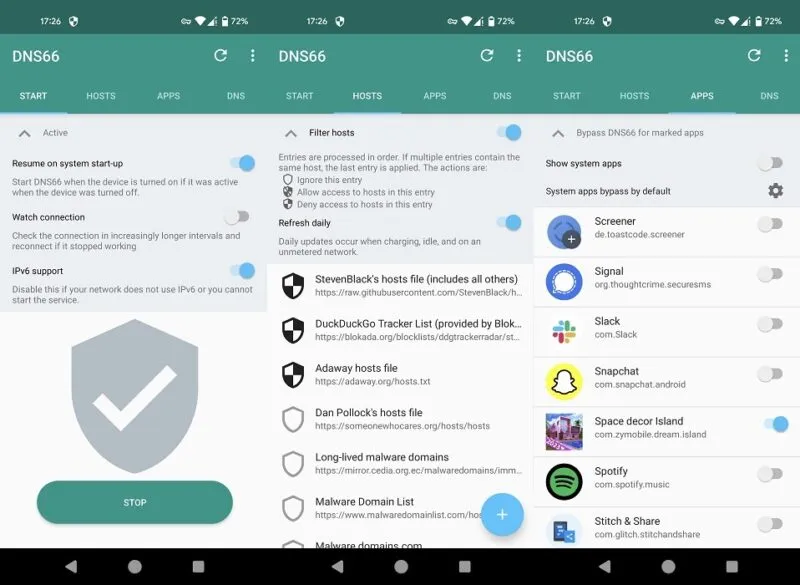 Although DN66 doesn't provide statistics on the number of blocked ads, it does allow you to make exceptions for specific apps on your phone, letting you choose which ones can display ads. It also provides extra filter host options for added customization.
Browser Apps with Ad Block Function
If you're not too keen on installing a separate app for ad blocking on your Android device, some web browsers come with built-in ad-blocking features. If you're already using one of these browsers, you're in luck because all you typically need to do is enable this option. It's important to keep in mind, though, that this approach may not block ads generated by apps.
Ads can be helpful in discovering products you've been wanting to purchase. After all, who hasn't stumbled upon a few ads that genuinely piqued their interest? However, there are occasions when the sheer volume of ads becomes overwhelming. Thankfully, with the help of these apps, you can now browse websites without encountering a single ad.
If ads truly bother you, it might be worthwhile to learn how to eliminate ads on Windows. For Linux users, you can consider using Pi-Hole to kickstart your ad-blocking journey.