This post is about to create the database for Bulk Email Client where all the emails can be stored from the mail client, lets learn something about MariaDB setup and installation on CentOS 7 with Video tutorial and Steps with Pictures
What is MariaDB ?
MariaDB is the database which is free and open source, it does support linux as well as windows platform. MariaDB is very popular used by huge number of users globally. MariaDB is the database which stores the data of websites, web based applications with live synchronizing. For example, if you are building some website on wordpress then your website's data will be stored in MariaDB server's database.
MariaDB is very easy to learn as well as we can schedule the hourly, daily or night backup for your database to make secure all your data after accidental disaster so you can re-upload your data in new MySQL server. Youtube, Google, Netflix, Uber and so many big companies are using MySQL to store their all the data.
In this post, I am going to show you how to install and setup MariaDB  database to store your email client's all the data.
MariaDB is the replacement for MySQL which is very easy for installation and for setting up the database for our website or web applications. It has good performance, improvements, speed and easy to deployment. MariaDB has more storage engines than MySQL which includes Cassandra, XtraDB and OQGRAPH.
How to Install MariaDB
1. Run the following command to install MariaDB
# sudo yum install mariadb-server



After installation, start MariaDB and enable it on boot
# sudo systemctl start mariadb





# sudo systemctl enable mariadb
2. Secure installation MariaDB
# mysql_secure_installation



Enter current password for root (enter for none):

Set root password? [Y/n] : 

New password : 

Re-enter new password : 

Remove anonymous users? [Y/n] :

Disallow root login remotely? [Y/n] : 

Remove test database and access to it? [Y/n] : 

Reload privilege tables now? [Y/n] : 
3. Check the status after installation by following command, if MariaDB has successfully started then the status should be active as per following
# sudo systemctl status mariadb



4. Create Database user and password
Now, Create SQL Database and SQL user for your email client database with full permission
# sudo mysql -u root -p



Enter your root password which you had set at the time of MariaDB installation and create database as well as set the full permission on the database
# use mysql





# create database mailclient;

# create user mail;





# grant all privileges on mailclient.* to 'mail'@'localhost' identified by 'yourpassword';





# flush privileges;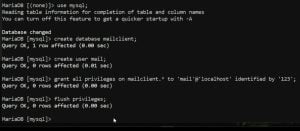 Video Tutorial
In this tutorial we have learnt how to install latest MySQL, MariaDB in the CentOS7 as well as we have successfully created the database along with full user permission. The main reason to create database is to store our website's or web applications data on it. We can assign the database name and database username, server in email client's or any other web applications config file which is located inside the apache root directory i.e /var/www/html
In my next post from Bulk Emailing we will learn how to setup config file of email client web application by putting MySQL database values as well as how to take database backup.