Everyone wants to grow their business through email marketing. But not all succeed, the first step is to start your own email marketing system is to update PTR record for your IP address, I think most of people make a mistake without updating their PTR record before starting own email marketing system.
If you want to create your own email marketing system, then for this you will first need an static IP address and 2 domain names. Yes 2 domain names, one domain will be used in your email marketing URL and the other domain will be used for bulk emailing from which you will shoot email to your subscribers. You only have to update PTR for one domain that will be used in URL of email marketing application only.
You can buy fresh domain to start your own marketing system, most popular domain registration provider are :
What is PTR Record ?
Once you have registered the domain, the next step is to update the PTR entry, before updating, we need to know what is the PTR entry record ? It is called pointer record, it is a type of DNS record which resolves your ISP static IP address to Name ( Domain Name ) and vice versa. A PTR record shows that IP has a registered domain name and because of PTR a mail server will recognize the DNS which helps to decrease in spam.
How to update PTR ?
Updating a PTR record is very easy, you don't have to make any settings in the mail server. Yes, once the PTR is updated, you have to make some settings on your mail server to update DNS. Remember PTR is very important to update if you are using static IP from ISP. Let's see how we update PTR.
Once you have purchased the domain and want to use it in the URL of the email marketing application, then first contact your ISP for PTR entry and tell them that we have to update the PTR record for xyz domain against your static IP address.
It would be better if you write email to your ISP to update the PTR, because through email you can give details with correct spelling of your domain. Remember, if you are making your own bulk emailing mechanism, then it is very important to do this step, below is the example of writing email to your ISP to update PTR. "test1" is server hostname and "testmail.com" is purchased domain name.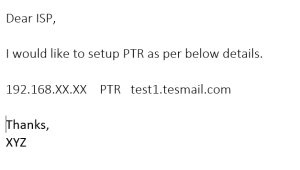 How To verify PTR ?
Once the confirmation email comes from the ISP, you can verify it easily with the below link. Usually it takes 24 to 48 hours to update your PTR record.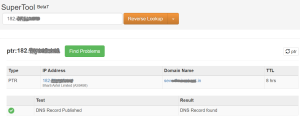 Final Words
My opinion is that if you are setting up your own email server, then PTR will be the first step. According to my experience, you must get your static IP and domain's PTR entry done. The biggest benefit of this will be that your IP address will not be blacklisted in test emailing, chances of IP blacklisting will be less.